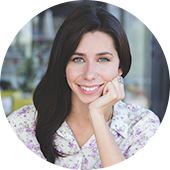 Working with Bailey has been a wonderful experience. Her approach is gentle, yet straight to the point and empowering. Bailey is a beautiful soul, with lots of love and wisdom to give to anyone who embarks on a journey with her. She helped me shift my perspective lots of times, especially when I was feeling stuck or not particularly motivated. Also, her positive approach made me feel encouraged, understood and cared for! Since the first time we spoke, I have achieved all the goals we set together and I have just been mind-blown by how far I could go! Thank you Bailey, you are a super coach!
MELISSA PANERO, MELISSAPANERO.COM
Working with Bailey has been truly eye opening and life changing for me. Her calm nature played a big role in setting me at ease when I was feeling quite vulnerable. It's like talking to a friend over coffee – that's how comfortable Bailey made me feel. I went from feeling helpless to hopeful in such a small period of time! I highly recommend Bailey to anyone that is in need of some help with food and body issues as well as teaching you a thing or two about the importance of self-love. Thanks to Bailey, I'm excited about my journey ahead!
ERINI M
Thanks to Bailey, I have come to know myself on a level I never believed possible.  Before working with her, I was struggling with judgmental thinking and developing a consistent, healthy lifestyle for myself.  I wanted to work on evolving some of my weaknesses into positive strength points.  To be honest, I was skeptical and nervous before our first session but I soon realized how beneficial the coaching process was going to be for me.  I felt so rejuvenated and connected to who I wanted to be after speaking with Bailey that I found myself looking forward to the time when we would connect again.  She always made me feel completely comfortable and accepted.  People have even began noticing that I was more energetic and look healthier since taking consistent actions toward my goals.  The biggest change for me is seeing the huge shift in my thoughts and how that has impacted my relationships and my own happiness.  This experience has been so valuable.  If you get the chance to work with this amazing woman, please do.  She is a great coach and I am so thankful for the time I have spent with her!
JANE P
Working with Bailey has been a wonderful and inspiring experience.  I really needed direction and guidance on putting myself first in various areas of my life and she has provided me with the knowledge, insight, and tools to do so.  I felt truly cared for, understood, and encouraged in every session, as she was both a good listener and had a supportive presence.  Her powerful questioning allowed me to release the need for perfection in certain areas of my life and be more flexible with myself, which is truly invaluable.  Her support and inspiration during our time together has helped me thrive in reaching my goals.  I would highly recommend her!
SAVANNAH T
Working with Bailey has been a very fun, motivating, and exhilarating experience. When we first spoke, I wanted to be proud of my body but didn't know how to start. I was quite nervous about getting support and openly talking about my struggles but with Bailey's support, I felt empowered and was able to find clarity in building a strong foundation. By helping me change my mindset around exercise to a place of embracing movement, I have been able to enjoy moving my body again, which has been a huge shift for me. Bailey's calm demeanor really helped me relax and feel grounded throughout the entire series so I was able to make the shifts I was desiring. I absolutely loved our time together.
AKEERA D
Ready to dive in and finally receive the support you need to get out of your own way & live brilliantly?